The Art of Creating
a Bathtub
BainUltra bathtubs are made with great care by our team of expert craftspeople, whose talent and technique shine through in the unique beauty of each and every one of our products.
The superior quality is the result of their uncompromising attention to detail and their creativity at every stage of the process – from our manufacturing facilities to your home.
the Way
We were the first manufacturer to develop air-jet technology, and our air-jet bathtubs are now recognized worldwide as the gold standard. We are also known as the industry leader for the Hydro-thermo Massage® system, which combines Thermotherapy®, massage therapy and hydrotherapy.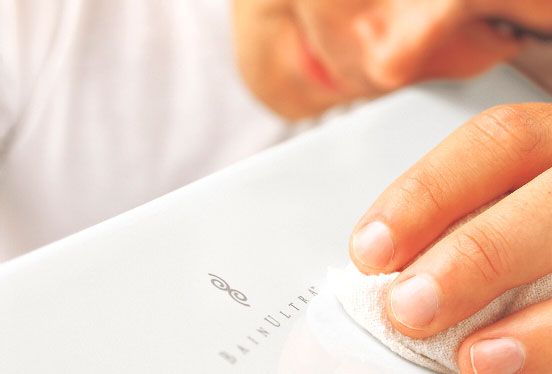 by hand
At BainUltra, more than 70% of the manufacturing process is carried out by hand.
Every tub is closely supervised at each stage of production to ensure careful attention to detail and impeccable results.
Our therapeutic baths reflect the know-how, the passion and the artistry of the people who create them. Each one is individually made for a unique look and feel and an incomparable value.
The Best Massage
a Bath Can Give®
The number and strategic positioning of the air jets, powered by a 600-watt turbine, deliver an effective, even massage to specific acupressure points located all over your body, including your legs, back and arms.
Our inverted V backrest provides a perfect massage from the lower back to the nape of your neck.
Our raised seat lets you specifically target the back of your legs.
Our GEYSAIR® technology heats and humidifies the air jets to maintain water temperature and provide a longer-lasting, more comfortable Hydro-thermo Massage. The Geysair system is included in all of our ThermoMasseur® baths.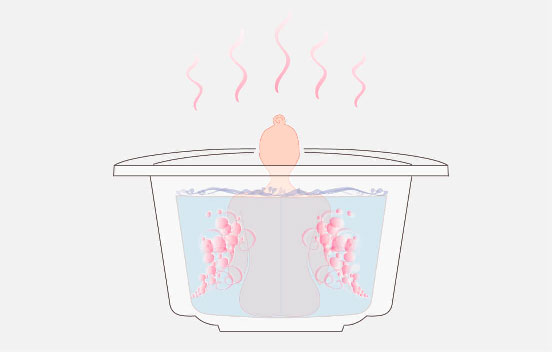 The Ultimate in Comfort
All our tubs are thoughtfully designed to be as ergonomic as possible. Our aim is to provide bathers the ultimate in comfort, so they can relax and let all their tension slip away.
The molded headrest, armrest and footrest support and cradle the body to deliver a restorative bathing experience.
The heated backrest extending from the lower back to the nape of your neck helps soothe your muscles and your entire body.
Grab bars make it easy to get in and out of the tub.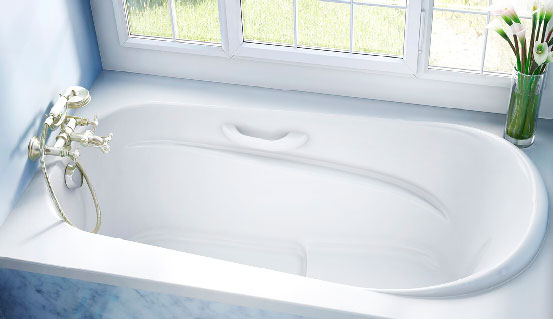 Optimal Hygiene
Our unique drainage system ensures optimal hygiene, an important factor in your overall health, featuring:
Conduits that drain and dry fully (no stagnant water)
A drying cycle that activates automatically
An ingenious, maintenance-free system.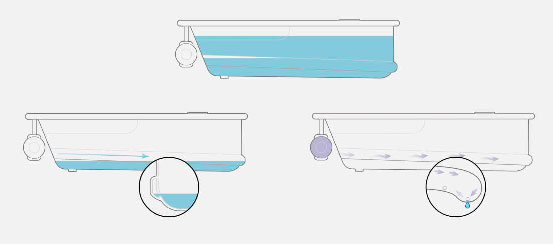 SUPERIOR MATERIALS AND ENCHANTING FINISHES
BainUltra has always designed high-quality baths in 100% pure acrylic, a substance with numerous proven benefits:
Easy to clean
Non-porous and hygienic
Durable and low-maintenance
Light and easy to move
Adaptable assembly for easy integration of bath therapies.
BainUltra's baths are available in two finishes full of noble purity, designed for your utter enchantment. Handcrafted with expert care, the glossy and UltraVelour matte finish transform your bath into a precious jewel of royal comfort.  
DESIGNED WITH CARE, FINESTONE OFFERS A NEW WAY TO ENJOY BAINULTRA BATHING:
Thermal insulant; hot temperature resistant.
Strong, resistant, and durable.
Light/color resistant. No color bleed or wear.
Non porous, hygienic and easy to clean.
Can be easily repaired.
Bath Models made with FineStone are offered in Satin Finish.
Made exclusively of high quality pure materials, our bath-tubs offer unparalleled quality and a beautiful finish that's made to last. Handcrafted with expert care, our baths finishes transform your bath into a precious jewel of royal comfort.
EASY INSTALLATION & PEACE OF MIND
Every BainUltra product is designed to offer a host of sublime benefits! And with our attention to product development, your satisfaction is guaranteed.
Our baths are as easy to maintain as a regular tub. Made from high quality materials to resist scratches and discoloration our baths are easy to use and install.