Change Your Bathroom - Change Your Life
Sitting Down with Award Winning Bathroom Designer Michelle Lauren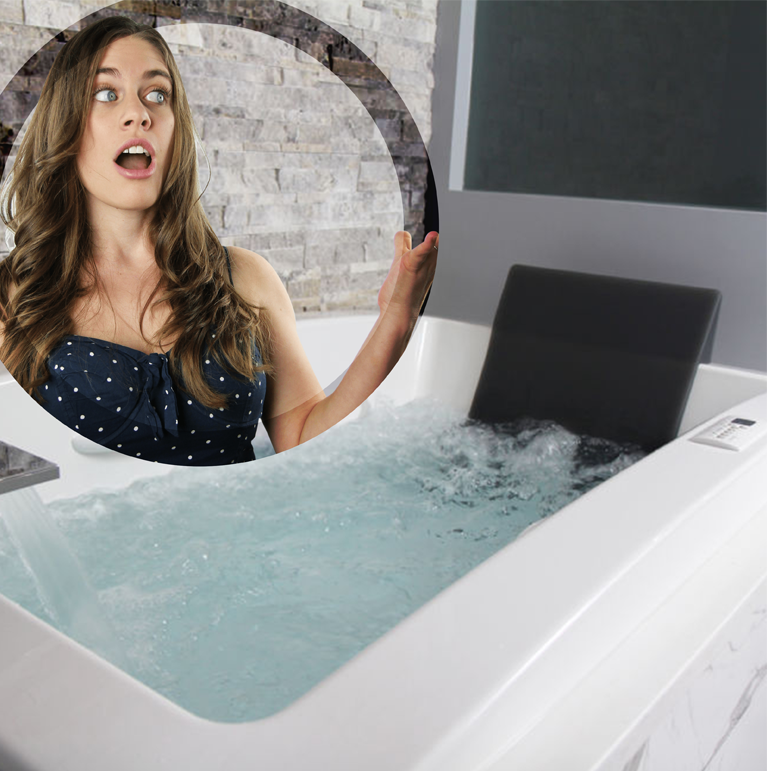 Michelle Lauren is an Award Winning bathroom designer, she has won multiple awards for many of her designs. Michelle's passion developed around her extensive travel and she sets new standards across the design industry. Her designs incorporate the strength of ancient architecture, the beauty of contemporary concepts and the mindfulness of sustainability to create artistic designs with balance and functionality.
BainUltra recently sat down with Michelle, who is the designer at "Change Your Bathroom" and asked her about her experience with BainUltra bathtubs and why she loves them.
My first experience with BainUltra was over 10 years ago, I was working with a client who was looking for a bathtub with not only an ergonomic design, but also therapeutic options. I started researching tubs that included more than the typical whirlpool jets (which have a reputation for being difficult to maintain) and came across BainUltra's air tub technology combined with chromotherapy and a heated backrest it was exactly what my client was looking for.
When I'm working with a client my goal is to improve their overall wellbeing. Through the selection process, we start with functionality: does the product do everything we need it to do? Then we look at design: is it ergonomic and aesthetically pleasing? Lastly and equally important we inspect it's quality: is it well made and does it have a positive impact on their health?
BainUltra's products are thoughtfully designed with these concepts in mind, which is why it's a pleasant experience for my clients to shop their collections - all of the products are innovative, ergonomic and maintenance free – so the only choices my clients have to make is which bathtub and how many functions they would like.
When I talk with clients after they've had a chance to live in their new space, they always share with me about how amazing their BainUltra tub is and that they take baths more often now because it's a completely different bathing experience.
Bathrooms have come a long way in the past decade, from the availability of products to the different design trends themselves. These are the 6 biggest trends to look out for in 2020:
1. Colors – Bright, vibrant colors. These colors are going to play upon the popularity of 1950s-1960s era which we've taken and put a contemporary twist on in 2020; updated a vintage feeling yet given it a "fresh and clean" spin at the same time. Why colors? Because, colors make us feel. We feel happy; young and alive. Coming out of 1920s-1940s modern and square era (for us that played right into the 2010s) ecstatically into the 1950s-1960s of "mid-century modern" era where color, curves and warmth where all coming in a big way which was an amazing contrast to the squared, cold and neutral modern era. Our 2020; the twist will include some forward thinkers who are also mixing in our contemporary version of the 1960s into the 1970s/1980s with "Hypercolor" as well. But, focusing on the more mainstream we will be seeing a lot of blue this year.
2. Matte Black – Stainless black, chrome black. We will be living in style this year with a lot of matte blacks mixed in. Now, that doesn't mean that chrome and brushed nickel will disappear completely– but in the near future you will be finding that chrome will not be the go-to finish. If you guessed that it would be Baby boomers who will still be considering these finishes, you'd be absolutely correct.
3. Curves – Smooth lines. Going right along with our 1960's themed design era we will be seeing a return of curves. At first it was subtle (square furniture legs that end in a rounded foot), but we will start experiencing larger, more graceful arches and turns in not only furniture, but also fixtures, appliances, woodworking – you name it. If we can put a curve on it – we will. Curves go right along with our theme because of the subtle emotion behind what smooth lines mean to us: natural and comforting. Which also leads us to warmth.
4. Warmth – Wood tones. Welcome to wood tones and the warmth that they bring! As we draw away from our gray and neutral past and into bright and beautiful 2020, we want to embody the "happy and alive" trend which includes materials sourced from nature. With this trend we notice a lot of natural wood finishes on cabinetry and also incorporated into other unique ways as well – think fixtures and tubs. While this is not a new movement – it is certainly coming in a big way with the focus on being authentic as opposed to manufactured.
5. Botanical – Natural. Hand in hand with the wood tone / warmth progression we will experience more of botanicals and nature based items in our designs. Whether that means actual plants incorporated aesthetically into spaces or using materials that emulate botanical features it will be a must-have feature in 2020. Instead of plants and nature being an after-thought or an "outside" thing, homeowners are going to want to pick fresh herbs out of the kitchen or step out of their shower into a botanical theme as if they are in an outdoor spa. Instead of planning an outdoor kitchen and then adding some potted plants, the overall design will be focused on how to keep the space natural and functional. Botanical features will be a forethought and will emphasis the ultimate luxury of the space.
6. Authentic – Quality. One of the most notable trends behind it all is the authenticity of the entire space. Vintage is synonymous with hand-made or well-crafted – a time when we had good materials that were selected straight out of nature and they were put together by the finest craftsman.
Thanks Michelle! - BainUltra